Green Vein Kratom Review – Botanical Kratom
This review will surround itself with Botanical Kratom's Green Vein Kratom Powder.(Click buy now to view pricing)

Like any reliable green kratom, this green vein is no different. As it is a green strain it produces a nice kratom effect that simulates all three vein effects in one mild convenient strain. A green vein is probably the most famous kratom strain as it hits many different feelings.
If you have tried green vein kratom before I urge you to keep reading as I strongly believe no one kratom is made identical. This particular green vein will definitely not disappoint when one is looking for a variety of effects all in one place.
Green Vein Kratom Effects
As the green vein incorporates all vein type effects, it is perfect for any day at all (View Kratom Everyday for elaboration) as it allows for an energetic feeling of alertness as well as helping you relax at the same time.
Wait what, energy and relaxation, how is that even possible?
Kratom will allow you to activate your mind and make you get your stuff done. This is extremely powerful when it comes to personal work, or even getting through a long day at your day job. (or night job) Having high amount of energy and no where to focus it is pretty useless. Green Vein Kratom will allow you to have a energetic CALM mind so that you are able to not switch tasks every 5 seconds.
Having major energy can make you anxious and scatter brained as you cannot focus on anything for longer than 5 seconds. I think we all have ADD today since we ALL have a smart phone and most of us pick that thing up 25 times an hour, maybe more, and this distracts us from our current tasks.
Green Vein Kratom Effects will allow you to have energy on your task at hand, meaning you will not deter AS MUCH as you would without the plant. Not to mention it also uses similar alkaloids to other vein kratoms which allow for the pain relief aspect to appear.
Green Vein Kratom allows for more than Energy and Calmness
When you have successfully found your sweet spot with Botanical Kratom's Green Vein strain it will probably go into your daily rotations since it is such a various effecting plant.
The following list will give you an idea of all the effects the Green Vein Strain can help with. These are personal notes that I have taken to ensure a complete review on the strain.
Heightened Alertness; Wakefulness
Sense of Calming that blends well with Energy
Sweet Spot Only – Mild euphoria that helps in chasing bad thoughts.
Focus; For when the brain fog hits, Green Vein removes and allows for focus
Slight raise in Sociability
Make sure "kratombible" is in checkout code for a Discount on Kratom!

a) Heightened Alertness; Wakefulness: As previously mentioned this strain will help you with your laziness/ sleepiness. Being Guilty of laziness at times, I have found that this strain is amazing for getting you "up and at em".
b) Sense of Calming that blends well With Energy: Although we mostly want energy to accomplish the tasks at hand, we also need to be able to concentrate on our work to make sure that nothing wrong is done. The effect of being calm and energized is extremely powerful.
c) Sweet Spot Only – Mild Euphoria for Chasing Bad Thoughts: This effect in the green strain is not always predominant, which is why I said sweet spot only. However you will notice a sense of euphoria at point when you have hit your sweet spot, and although distracting for some, euphoria from kratom is a personal favourite feeling and it helps in anxiety and depression as well.
d) Focus – When Brain Fog Hits: Some people say that when they reach a certain point in the day they become lethargic and lazy, this could be known as brain fog. Your mind is not clear on things that you want to accomplish, it literally just feels like….staring and doing nothing (for me personally). Green Vein will clear brain fog and allow you to move through the day with a clear, focused mind.
e) Slight Raise in Sociability: With the fact that kratom can make one happier, it is not secret that it will make you a more open person and wanting to talk to others. If you are like me, when your in a bad mood and or pissed off at something you don't feel like talking to anyone and just really inside your head (bad way to be By the way) so naturally if you are happier you will tend to be more tolerating of people. I actually find with green vein to actually want to talk to people.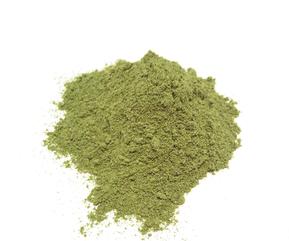 Is Green Vein Kratom better than Others?
I personally like this green vein but it comes down to what you prefer as a kratom effect. My favourite kratom strain is Maeng Da (see review here) and I believe that a lot of kratom connoisseurs will agree with me when I say that Maeng DA kratom is a VERY powerful kratom strain, considering your buying from a reputable vendor (see Buy Kratom for more)
If you are like me than you will find great benefits in every kratom strain and I invite you to view the other Kratom Reviews to see if anything there seems to be something that would benefits you in your kratom lifestyle.
In Conclusion
Kratom is an amazing plant that effects people in various ways and benefiting a lot of different problems. This green vein kratom is definitely one that you will want to add to your rotation. I invite you to share your thoughts on this strain in the comment section below as well as sharing this with people you believe would benefit from a plant that benefits many things. Also be sure to view the different pages below if you are new to kratombible.com
P.s Make sure to share the love with the Discount code "KratomBible" as it will help people save money on their kratom.





View the Following links to get a nice tour of kratombible: